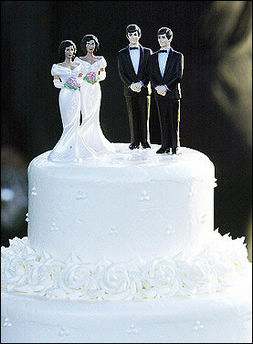 According to a new Washington Post-ABC News poll, 53% of Americans now support gay marriage. Five years ago, that number was 36%, which shows a significant increase in a relatively short time. The poll shows that the shift has been driven by a number of political and demographic groups whose support for gay marriage jumped the most.
Men, who previously were less supportive of same-sex marriage than women, are now on the same level of support as women. Support among college-educated whites, political independents and people who do not consider themselves religious also rose substantially.
"This is very consistent with a lot of other polling data we've seen and the general momentum we've seen over the past year and a half," said Evan Wolfson, president of Freedom to Marry, a leading pro-gay-marriage group. "As people have come to understand this is about loving, committed families dealing, like everyone, with tough times, they understand how unfair it is to treat them differently."
Republicans, conservatives and white evangelical Christians remain the groups most opposed to legalizing gay marriage. The poll was conducted over the phone last week, among a random national sample of 1,005 adults.