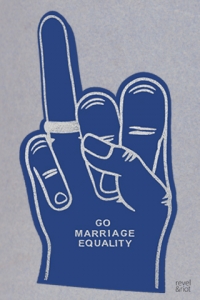 For the first time in Gallup poll history, a majority of Americans support marriage equality. A new data report was released today, the third national poll in the past two months, showing that more Americans support marriage equality legislation than oppose it.
The poll surveyed a nationally representative sample of over 1,000 American adults, asking them whether marriages among gay and lesbian couples "should or should not be recognized by the law as valid" with the same protections as those given to heterosexual couples. 53% of respondents said that yes, these marriages should be valid, while 45% opposed giving LGBT people the same marriage protections. The increase came exclusively among Democrats, whose support increased by 13 percentage points to 69% since last year; and political independents, whose support increased by 10 percentage points to 59%. Republicans' opinions remained steady at 28% in support.
The number of Americans in support of marriage reflects a difference of 9 percentage points since last year's Gallup poll. People over 50 are still less likely to support marriage equality, and women are still more supportive than men. Those who are unmarried and those who do not attend church frequently are also more likely to favor marriage equality.