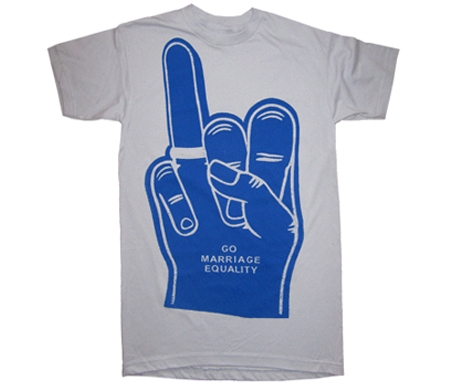 Unisex Marriage Equality Foam Hand T-Shirt
REVT-010
$30.00
SIZE:
With our marriage equality foam hand shirts, we cheer those fighting for this important civil rights issue in the courtrooms and on the streets. With the zealotry of a sports fan, we oppose ignorant bigots and religious fundamentalists who would deny us the right to marry the one we love and therefore claim access to the over 1,000 rights and legal protections that come with marriage, including: immigration, adoption, the right to pensions, insurance, hospital visits, divorce and domestic abuse protections, the list goes on and on.
silver with blue hand:
The Marriage Equality foam hand is printed in an extra soft royal blue ink on a silver coloured t-shirt. 100% ring-spun combed cotton, lightweight and exceptionally smooth, gets softer with every wash!
View Size Chart