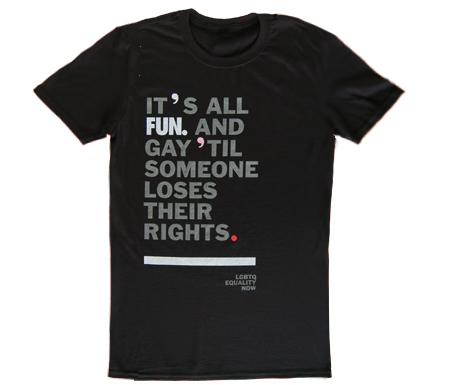 Unisex LGBTQ Equality T-shirt
REVT-046
$25.00
SIZE:
Playing on the old adage "it's all fun and games 'til someone loses an eye,' we've made a new statement about the precarious state of LGBTQ rights in the USA and the world. In fact, rights can be taken away by bigoted politicians, political games, and the ignorance of the general public who feel that they should be entitled to limit, grant, or take away LGBTQ people's civil rights.
Steadfast LGBTQ allies and supporters of Revel & Riot, the band Fun. approached us to make a shirt that would serve to promote awareness of LGBTQ issues and raise funds for our organization. They sold the shirt on international tours, and have used the slogan in their campaigns for their own organization, The Ally Coalition. We are so grateful to Jack, Nate, Andrew, and their label Fueled by Ramen for their support.
The 4 colour (pink, white, red and grey) "it's all fun and gay" design is printed on a black crew neck t-shirt made of 100% preshrunk jersey knit cotton.
View Size Chart