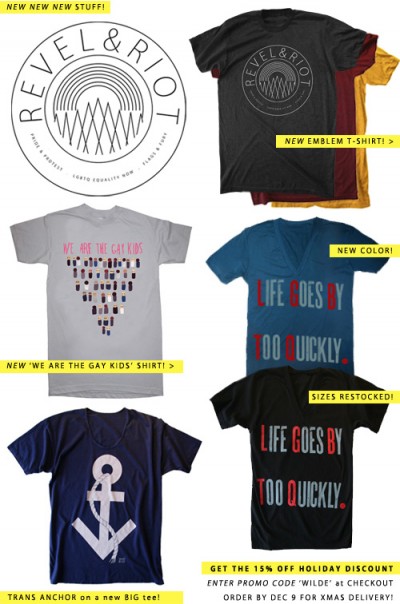 The Revel & Riot workshop has been busy this past month, getting some new items ready for our store.  We are very pleased to show you our new Revel and Riot Emblem shirt – which is available in four amazing colors;  a new style for the Life Goes By Too Quickly tee,  as well as a restock of the black LGBTQ tee; and for the first time available in a t-shirt – the very popular, WE ARE THE GAY KIDS design!  It's super colorful, meaningful, and one of our all time faves!
We've also given our canvas God Hates Bags tote bag a new custom build, so it is extra durable, and comes with a pocket on the inside for your keys and wallets and your Walkman. Stay tuned because in the next couple weeks we'll be releasing a NEW BAG that we hope you'll all love.
For you holiday shoppers, if you want to make sure your Revel & Riot gear gets delivered in time for Christmas, please try and order by the 9th of December, as we can't guarantee that your order will get to you in time if you wait much later than that!
For the Revel and Riot Holiday Sale: To get 15% off of your purchases, simply use the promo code: WILDE 
"Be yourself; everyone else is already taken."
― Oscar Wilde