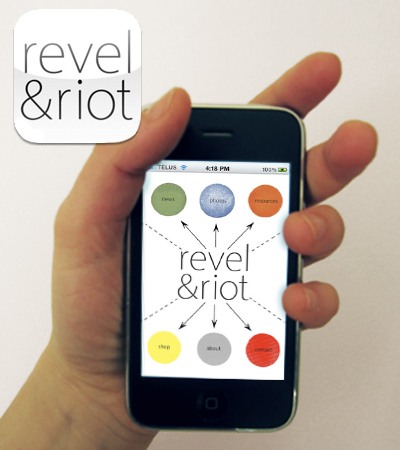 No iPhone is complete without the brand new Revel and Riot app! It's got everything our site has, but in a specially designed mobile format just for the iPhone. Never be without the latest LGBT news and info again! We even designed the app icon so that it will look nice nestled between Shazam and Angry Birds.
The amazing Revel and Riot iPhone app was designed by our dear friends, the talented and brilliant boys at Space Dog. We all worked together to make our LGBT resources, pictures, new stories, and even our store, all easily navigated and accessed through your iPhone. And best of all – it's free!
And for those of you with an iPad, there's also a Revel & Riot iPad app, so you can balance the latest LGBT news precariously on your slightly bent knees while you watch Glee.
Click here to get the Revel and Riot app on your iPhone now!