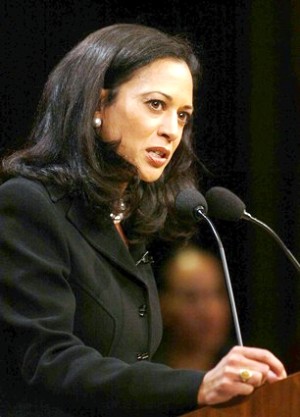 Attorney General Kamala Harris submitted a petition to the 9th U.S. Circuit Court of Appeals today in regards to Prop 8, the voter-passed initiative that bans same-sex marriage. Proposition 8 is the now infamous ballot initiative that banned gays and lesbians from marrying in California. Most of the support for Prop 8 didn't even come from California. About 45% of contributions came from Utah, which is more than three times more than any other state in the US. Protect Marriage, the official proponents of Proposition 8, estimate that about half the donations they received came from Mormon sources, and that up to 90% of the volunteers were Mormons.
Prop 8 was declared unconstitutional in federal court last year, a move which could have allowed gay marriages, but that was quickly shut down when the appeals court put everything on hold until the case is resolved.
Kamala Harris, who previously served as San Francisco's district attorney, succeeded Gov. Jerry Brown as attorney general in January. Brown refused to defend Proposition 8 before the appeals court.