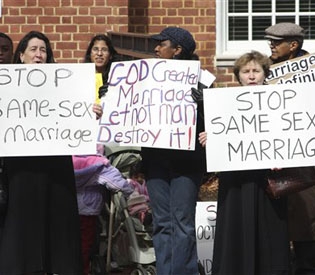 The Democratic leadership in Maryland's House of Delegates announced just before the weekend that it didn't have the votes to pass a gay marriage bill. The Associated Press reports:
"The speaker of Maryland's House vowed that Democrats would try again next year to pass legislation legalizing gay marriage, but the intense lobbying by faith groups against the measure in recent weeks shows that it won't be easy, even in a state known for its liberal politics.
A loose coalition of Democratic legislators failed to cobble together enough votes to overcome opposition from Republicans and religious groups, including the Catholic church and many black congregations, to make Maryland the sixth state to legalize gay marriage.
Lawmakers had planned to vote on the bill in the House, but it was withdrawn instead Friday and effectively killed for the year."