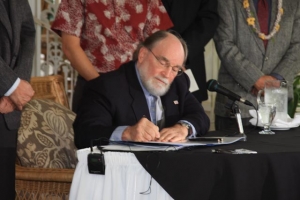 A Hawaiian employment law that prohibits discrimination on the basis or gender identity or expression was signed into law by Governor Neil Abercrombie this week.
Sen. Clayton Hee wrote in his committee report that the measure sends a message that Hawaii's laws protect against discrimination based on actual or perceived sexual orientation.
Hee mentioned that the Hawaii Civil Rights Commission in 2002 already interpreted gender identity and expression as being protected under the state's anti-discrimination laws, but that the new law makes the commission's ruling a permanent part of state statutes.